En Bloc Commercial Sale Singapore – Success High or Low?
Owners of Commercial Properties Join the Collective Sales Bandwagon
The period beginning the last quarter of 2017 has been a boom for owners of residential properties selling collectively and there is indication that owners of commercial properties believe they can also ride the en bloc wave.
Whether those that tried to sell en bloc before without success will be lucky this time round is yet to be seen.
There have, in the recent couple of months, been properties of mixed use put on the market with the hope that they would be grabbed fast when sold collectively, but the tenders ended up closing without any offers to match their reserve price.
Such properties include the ICB Shopping Centre and Jalan Besar Plaza
Verdun House, whose reserve price was S$60 million and translated to $2,100 per sq ft per plot ratio (psf ppr), faced the same fate, as its tender closed on April 18, 2018 without a deal.
Considering 2018 has been a great year for sellers of residential properties, it is apparent the commercial section of the mixed-use properties is pulling the offer prices down.
Still, there is a lot of hope among potential sellers of commercial properties that the en bloc wave will finally work for them.
There is even another commercial property along Joo Chiat Road, owned by a single person, which Knight Frank recently launched at a land rate of between S$969 and S$1,077 per sq ft. The property owner anticipates an offer between S$18 million and S$20 million.
Hopefully, the owners of these properties, and others hoping to sell en bloc, will be realistic in their pricing, so that they can attract developers ready to top up their land banks.
This is particularly important for commercial property owners who are serious about disposing of their property when there is still a reasonable lease period remaining.
Commercial Properties En Bloc Sold So far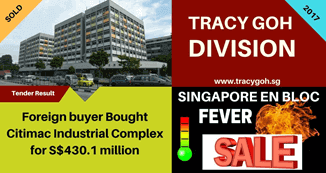 Commercial En Bloc Properties for Sale
Owners of Singapore Shopping Centre May Settle for S$250m
Singapore Shopping Centre, for example, is on a 99-yr lease, and since it was constructed in May 1948, it has barely 30-yrs remaining on its lease.
The property happens to be the residence of the Real Estate Developers' Association (REDAS') secretariat, and the area that belongs to REDAS is 5,264 sq ft in size, including the roof terrace whose size is 2,390 sq ft.
However, despite the fact the association is a major shareholder, occupying around a fifth of the entire site area of 26,369.4 sq ft, the association is not one of the members of the collective sales committee (CSC), which is chaired by another shareholder, John Lim.
The reserve price for this property, which has been zoned commercial according to the 2014 Master Plan, is expected to be set in an extraordinary general meeting, but Cushman & Wakefield, who is the appointed marketing agent, says the price is likely to be approximately S$250 million.
According to the CSC chairman, the reserve price will be determined only after the valuation report has been received. The site has a gross plot ratio (GPR) of around 4.2.
According to Christina Sim of Cushman & Wakefield, the reserve prices for Goldhill Centre and Katong Shopping Centre has been set at S$425m and S$580m respectively, which reflect a land rate of S$2,600 psf ppr and S$2,100 psf ppr for each respectively.
The land rate for Goldhill includes the development charge, while the rate of Katong Shopping Centre has not factored in any development charge.
Some Commercial Sites Have a Very High Gross Plot Ratio
Unlike many residential properties, some commercial sites have a relatively high gross plot ration. For example, Realty Centre, which sits on an area around 11,000 sq ft, has a GPR of 5.6, even higher than Singapore Shopping Centre.
However, nobody, not even the appointed marketing agent, Cushman & Wakefield, has hinted at the property's likely reserve price.
Incidentally, neither the owners of Singapore Shopping Centre nor those of Realty Centre know, as yet, their properties allowed gross floor area.
They are still waiting for confirmation from the relevant authorities.
Why the En Bloc Wave Has Not Swept Commercial Properties
In this initial third of 2018, residential properties have been selling en bloc like hot cakes, yet commercial properties are yet to make any headway.
All the 25 collective sales deals sealed in 2018, with revenues totalling S$8.2 billion, involved 24 residential properties, one of which was Pacific Mansion with a price of S$980 million that set a record for being the highest in ten years.
Of the three remaining, one was a commercial property, another one a mixed-use property, and the last one an industrial property on freehold ownership.
Brokers of commercial properties reckon the main problems in selling the properties, even collectively, are two; the pricing and the places respective properties are located.
This is, of course, besides the fact that selling a commercial property is more time consuming than it is with a residential property.
According to Christine Li of Cushman & Wakefield, shareholders of a commercial property have varied opinions as to what the value of their respective units should be.
At the same time, those with thriving businesses are normally reluctant to abandon the location at which they are established to check out different locations whose viability they are not certain.
Tan Hong Boon of JLL has also noted a different challenge in handling the sale of a commercial property, and that is getting the shareholders to agree on the method to use to apportion the sales revenues once the property has been sold.
Nicholas Mak, the executive director of ZACD Group concurs with the challenges cited and adds that often collective sales attempts for commercial properties often fail because developers find the asking prices to be unreasonably high.
There is Still Love in Commercial Property Singapore
There Is Still Hope for Sellers of Commercial Properties
Since commercial properties have so far not responded well to collective sales attempts targeting developers, some owners may decide to attract investors not interested in reconstructing them.
Bugis Cube is one such development. The property, which had a major refurbishment in 2013, is in the process of being put up for collective sale, and word has it the owners may target buyers who want it for investment just as it is, and not to redevelop it.
In any case, the site has already been constructed to its maximum allowed GFA.
Ms Li is also optimistic owners of old commercial developments could realize the need to price their properties reasonably, particularly those over 28-yrs old.
After all, many such owners want a way out of the investment, whose rental yields are gradually declining in the face of competition from more modern developments.
Ms Li is also of the opinion that medium size developers will be interested in commercial or mixed-use properties that are of small size, finding such properties that are also rarely found among government land sales, optimal for their use.