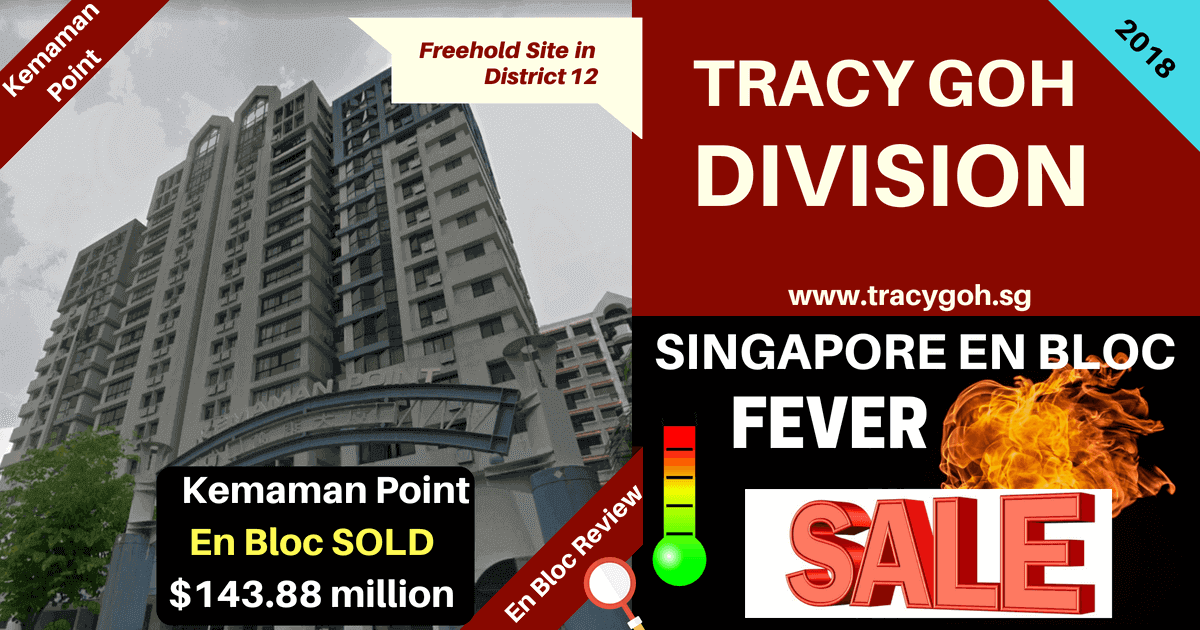 Kemaman Point Sold En Bloc to Soilbuild Group Holdings for S$143.88m
Tender for collective sale of Kemaman Point – the residential development on Balestier road comprising 89 residential units has been won by Soilbuild Group Holdings and their bid was S$143.88 million.
Knight Frank, marketing agent for the en bloc sale of Kemaman point stated that each owner will receive between S$1.4 million and S$2.32 million as the gross sale proceeds upon successful sale to the bidder Soilbuild.
Several conditions govern the sale including an order from the High Court or the Strata Titles Board.
The sale price for redeveloping the site to a GPR of 2.8 considering the maximum permitted GFA of approximately 122,711 square feet equals a land price around S$1,173 psf ppr, according to Knight Frank.
After adding the 10% bonus for balcony and the suggested plot ratio of 3.08, the land price translates to approximately S$1,111 psf ppr including developments charges amounting to about S$6.1 million, adds the marketing agent.
Kemaman Point Location, Amenities and Redevelopment Plan
Kemaman point is located at 5 Jalan Kemaman and enjoys several desirable amenities in its vicinity including the Toa Payoh MRT station at about 0.8 km, Boon Keng MRT at about 1.4 km and Novena MRT at about 1 km.
Apart from this, the property is also close to several schools and colleges.
Other amenities include 3 shopping malls within 1.5 kms and 3 child care centres within 1.2 kms.
Kemaman Point represents a private residential estate comprised of 89 apartment units in one residential block and ranges from 79 sq meters to 159 square meters with a site area comprising 4,071.5 sq m (approximately 43,825 sq ft).
Ian Loh, the head of investment and executive director at Capital markets for Knight Frank Singapore added, that the proposed high-rise development will have unobstructed view towards Jalan Kemaman, over the houses on low-rise lands.
He also added that considering the rejuvenation of Balestier area recently, and limited supply in the surroundings, the proposed development will be a sought-after destination.
Chairman of the en bloc sale committee for Kemaman Point, Peter Mao stated that the en bloc sale process was transparent and said he was hopeful of garnering 100% consensus from all the present owners to hasten the process for the owners to move ahead with the purchase of their next home.
Knight Frank Impressive En Bloc Sale Record
Kemaman Point  En Bloc Details
Marketing Agent: Knight Frank Singapore
Sale Price: S$143.88 million
S$1,173 psf ppr
Buyer: Soilbuild Group Holdings 
Land Size:  43,825 Sq.Ft.
Kemaman Point En Bloc Sale – Freehold District 12
Kemaman Point, a residential property in District 12, has been put up for collective sale, and the owners have done a good job of providing the full costing.
They are asking for S$143.8 million inclusive of the development charge, which is S$958,000.
Since the site area is around 43,825 sq ft and the gross plot ratio is 2.8, it means this land, which is on freehold ownership, will be selling at S$1,180 per sq ft per plot ratio (psf ppr), the gross floor area (GFA) being 122,710 sq ft.
The public tender is set to close on June 12, 2018 in the afternoon.
The news of this tender was provided by Knight Frank, who also explained that the property, which now holds 89 apartment units, has potential to be redeveloped to hold almost double that number; approximately 162 units.
The assumption here is that the new developer will keep the unit sizes to an average of 753 sq ft.
According to Ian Loh, executive director of Knight Frank who is also head of investment and capital markets, the Kemaman Point condo is situated off Balestier Road, an area that has been revitalized by the emergence of popular Food & Beverage outlets as well as cafes.
He explains that the vibrant life developing in the area is attracting people of all age-groups, which gives the impression the place is quickly becoming a popular destination for people wishing to hang out.
It is also Loh's view that the new construction will give residents a clear view of the area around Jalan Kemaman, as well as an unblocked view of the low-rise houses in the area.
One other important point he notes is the limited supply of land for sale in the region, which makes the availability of a property like Kemaman Point very welcome. In short, Loh can see the Kemaman Point tender attracting many bidders.
Strong Selling Points for Kemaman Point
The plot is regular, making it easy to construct a development of any design

The site has a wide frontage, stretching a whole 92 metres from 5 Jalan Kemaman

It is well connected to other areas of the country through major roads and expressways, which include the Pan-Island Expressway or PIE; the Central Expressway or CTE; as well as Balestier Road.

It's a Freehold Property which Developers targeted

There are three MRT stations within a 2km distance.

Food Haven. There are many popular F&B outlets, well-known restaurants and cafes in this area. This will definitely attract many home hunters

2 Shopping Malls within 3 mins walk, Balestier Plaza and Shaw Plaza. It will provide necessary needs for future residents

There are three international schools and three primary schools within 1.5km distance

It will be relief to have a Hospital nearby, Tan Tock Seng Hospital will provide all medical care & services

The Central Business District and the Orchard Road shopping and entertainment belt are within a few minutes' drive

The property is close to parks and nature sites