Amber 45 the latest condo development on East Coast opened to tremendous response. It has got everyone at UOL Group excited as they managed to sell 80 units out of 100 units that were released.
The properties at this freehold development sold for an average price of $2,200 psf. General Manager, Marketing for UOL Group Mr Anthony Wong said that 94% of the buyers were Singaporeans and credited the strong response to the attractive location of the site and the amenities being offered to the customers.
Located on Amber Road in District 15, Amber 45 is Marine Parade's heart. A posh location it is known for the sophisticated life it offers to its residents.
The new condo launch site is close several entertainment hubs, shopping malls, business clubs and beauty centres. It is just mins walk away from Parkway Parade Shopping Mall along with the Katong Shopping Centre and 112 Katong also in close proximity. Joo Chiat Food District is also easily accessible via Marine Parade MRT which would soon become a part of Thomson-East Coast MRT Line.
The property offers buyers ample choice of accommodation that include two-bedded units sized between 614 sq ft and 872 sq ft, three-bedded apartments that also come with an additional guest room ranging between 1,130 sq ft and 1,324 sq ft in size and the ultra-spacious four-bedroom units that encompass floor area between 1,346 sq ft and 1,798 sq ft.
It also boasts of state-of-the-art smart home technology that includes voice-controlled lights and ACs as well as smart and secure digital locks.
The development has a 22 storey block and would upgrade lifestyle for its dwellers. It offers state-of-the-art facilities and amenities that would match the best available elsewhere in the world.
Some of the impressive amenities at Amber 45 include a Longue, Clubhouse, 50m Lap Pool, Children's Playground, Water Hammock, Gymnasium, Forest Spa & Foot Massage, Amber Pavilion and a Tennis Court among host of others.
The open-air and eco-friendly design is as major highlight of the property and promises residents the perfect escapade from the gruelling life of the city after a tiring day's work.
Amber 45 new launch condo is also close to some of the most reputable educational institutions in the city and this is acting as a huge incentive for couples with young children.
The Tanjong Katong Primary School is just about a kilometre from the site and others such as Tao Nan Primary School, Canadian International School, Chatsworth International School and Tanjong Katong Girl's School are within 4 km radius.
Connectivity wise the site offers great advantage to the buyers as it is connected to Marina Coastal Expressway, Kallang Paya Expressway and the East Coast Park Way that would offer easy commute to all parts of Singapore at all times of the day.
UOL Groups is also preparing for the launch of The Tre Ver it's much publicized condo project located in Potong Pasir. The 729-apartment development has come up on a site that formerly housed Raintree Gardens and has been designed by Woha award-winning architects.
Why Amber 45 is Selling Fast?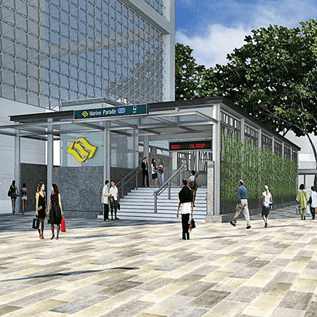 Amber45 is mins walk away to Tanjong Katong MRT and Marine Parade MRT Station
Every Home Owners wants to live in a Place near Seaside. New residents can walk to East Coast Park in 6 mins
Dining & Shopping. Best choice will be Parkway Parade. Only 4 mins walk. Good restaurants and wide variety of stores can be found within
What Is Attracting Buyers To Amber 45?
Sophisticated development completes with premium amenities

It has been developed by reputable UOL Group

Proximity to Marine Parade and Tanjong Katong MRT Station

Location close to shopping malls such as Parkway Parade, Katong Shopping Centre and 112 Katong

Educational institutions such as Tanjong Katong Primary School, Chatsworth International School and Tanjong Katong Girl's School in close proximity

Wide choice of apartment units ranging from 614 to 1,798 sq ft

Top Attraction East Coast Park only 6 mins walk away