Mandarin Gardens En Bloc Gigantic Sale – $2.5 billion
After trying for the first time in 2007 to sell Mandarin Gardens en bloc, the property owners are now looking at an all-time target price of S$2.48 billion.
They have appointed C and H Realty as their marketing agent. Singapore has not had such a massive sale before, and the 1,006-unit property will be a first. The property sits on a 1.07 million square feet expanse, and it is on a 99-yr lease.
Each property owner at the Mandarin Gardens condo is likely to take home amounts ranging from S$1.58m – S$5.07m, based on the stated reserve price.
Should the collective sale be successful, it will supersede that of Farrer Court that clinched a S$1.3 billion deal back in 2007 to become the highest en bloc sale ever witnessed in Singapore.
Farrer Court, which is today's D'Leedon Condo, is situated in District 10, while Mandarin Gardens is situated in District 15, at Siglap Road that runs alongside the anticipated Thompson-East Coast rail line.
They expect the sales process to draw lots of attention as its success would mean the asking price bar has now been raised for Singapore's future collective sales attempts.
An extraordinary general meeting is expected in 2-wks time, during which property owners are expected to approve the en bloc sales conditions.
According to Mr. Ku Swee Yong, International Property Advisor's chief executive, while S$2½ billion may sound a colossal figure, it tends to match the enormity of the Mandarin Gardens site, and after factoring in the plot ratio of 2.8, the new developer will have a massive gross floor area (GFA), totalling around 3 million square feet, to sell as housing units.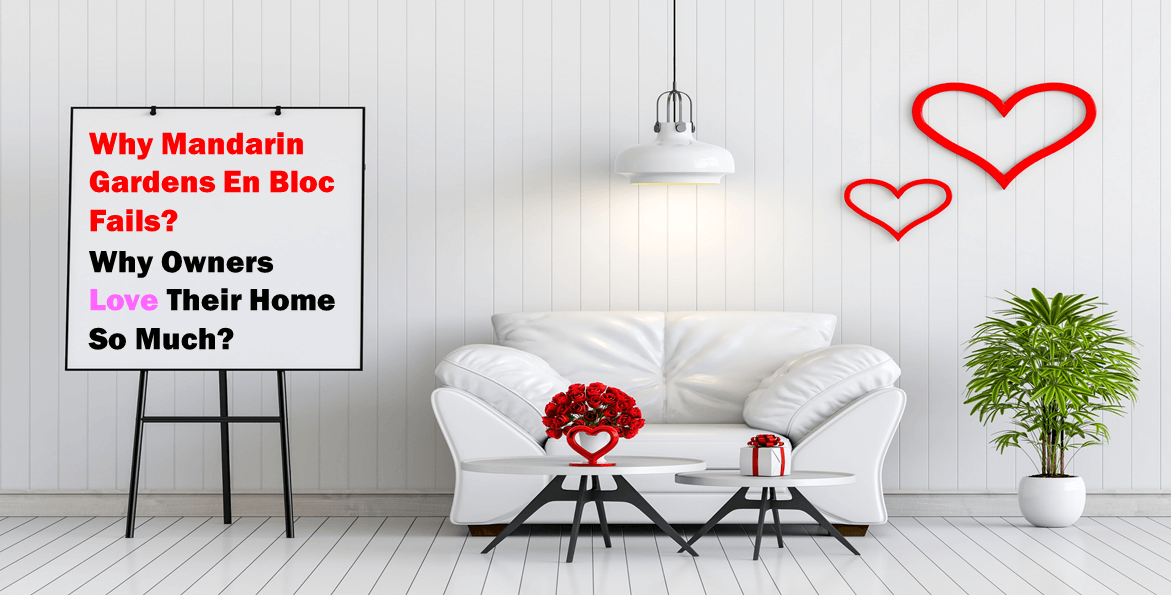 Exact Cost Could be as High as $4 billion
Since the Mandarin Gardens' asking price is unprecedented in Singapore, some analysts think getting a developer willing to pay such an amount could prove an uphill task, especially after the first attempt around a decade ago failed to elicit interest.
People thinking along those lines say one must consider the lease upgrade premium involved, development charge, as well as possible additional buyers' stamp duty (ABSD), all which are bound to add to the cost of the property.
In short, while current market conditions are favourable for the sale of a large property, the possibility that the cost of acquiring the Mandarin Gardens site, lush as it is, could escalate to three or four billion dollars might be a big challenge.
Still, en bloc sales seem to be doing much better than last year, considering the first quarter of 2018 is not yet gone and the cumulative en bloc sales have reached S$5.9 billion.
2017 en bloc sales totalled 27 in number and yielded S$8.7 billion. That figure is inclusive of Amber Park S$906.7 million, which is the country's highest ever for a freehold property sold collectively.
There are More En Bloc Sales Offers for Big Sites
Mandarin Gardens is not the only large site trying to sell en bloc. Pine Grove, a 660-unit size property in District 21 is on the market with an asking price of S$1.65 billion, while Braddell View, a 918-unit property in District 20 is going en bloc with an asking price of S$2 billion.
Property Analysts say the sale of Mandarin may end up being done by a consortium, in which case it may not attract many bids.
For their part, members of the collective sales committee see the size of their property as a possible challenge, citing availability of smaller sites in the neighbourhood whose owners are ready to sell en bloc.
In support of this premise, Nelson Lim, the key executive officer at C&H Properties, notes that Laguna Park and Lagoon View, two properties in the neighbourhood of Mandarin Gardens, are preparing to sell en bloc, and they could be more alluring to developers.
For the collective sales committee, convincing the huge number of property owners at Mandarin Gardens to sell collectively could be another challenge. Still, Mr. Lim anticipates more collective sales offers in 2018, and he is optimistic developers will be prepared to pay the high asking prices property owners will demand.
Mandarin Gardens Location, Amenities and Attractions
Mandarin Gardens location is one of the best in District 15. The Condo site is near to many wonderful attractions and great amenities. It's every home owners dream to live in such a great location.
Located in prime district 15, in hot En Bloc Zone

It is only 8 mins drive from the Central Business District (CBD)

Singapore Changi Airport, hailed as the world's best airport, is a few minutes' drive to the site

Jewel Changi, a beautiful glass and steel dome within the airport, is set to be completed by 2019

The site provides a great amazing view of the sea, making it very alluring to foreigners

Siglap MRT is set to be completed by 2023, connecting the area to the other parts of the country. The station is only 5 mins walk to from the condo. It is also bound to catalyse appreciation of properties in the area. Investors are bound to eye at this

Mandarin Gardens is close to the East Coast beach. Residents can walk directly to the beach with the help of underpass

There are international schools within a kilometre, and they include Sekolah Indonesia, Rosemount Kindergarten and Rosemount International School. Decent primary schools are within 2km of the site, and they include Ngee Ann Primary, Opera Estate Primary, and St. Stephen's School.

Many schools are connected to the site by the Thomson-East Coast line. The new Marine Terrace MRT is stop from Siglap MRT. These schools are Saint Patrick's, CHIJ Katong Convent, Victoria Junior College, and Ngee Ann Primary.

Marina Bay Sands the famous attraction can be reach by 5 mins drive

The nearby East Coast Park is undergoing an upgrade to improve recreation facilities and provide a nice open space.

The Mandarin Gardens site has many other attractions within reach, including many seafood restaurants and decent eateries; cold storage close to Siglap Shopping Centre; and Cathay Cinema.